About Chris Armstrong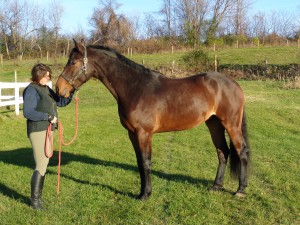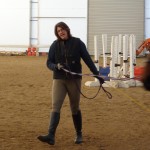 Chris Fraser Armstrong
Although Chris has had a deep love of horses for as long as she can remember, she didn't start riding until the age of 19 when she got a job as a working student at a small Fjord breeding farm in East Ryegate, Vermont.  She graduated from UVM with a BS in Animal Science in 1994 and worked as a veterinary assistant for two years before she took her first position as barn manager.  She has a knack for organization, pays attention to detail, and has developed a keen eye for lameness.  She has spent years gleaning information from colleagues, veterinarians and farriers; she is continually expanding her education.
Chris enjoys ground work and working with young horses; she purchased her last two horses as babies and has brought them along herself.  She likes taking the time to figure out each horse's individual personality, where they fit into the herd and how their herd instincts correlate to their interaction with people.  Chris has recently started experimenting with energy work and using it to help horses in achieving a calm relaxed state of mind.  She's found that this is especially helpful with anxious or tense horses and has had particular success using it to help horses with trailer loading issues.
Chris lives with her husband Jim and daughter Katie, a D1 pony clubber, along with an assortment of dogs, cats, and horses in Ferrisburgh.  She spends her spare time gardening, tending her mixed flock of laying hens and Guinea fowl, and riding her 2009 Holsteiner gelding, Calixto.
Katie, with her pony, Buttercup.